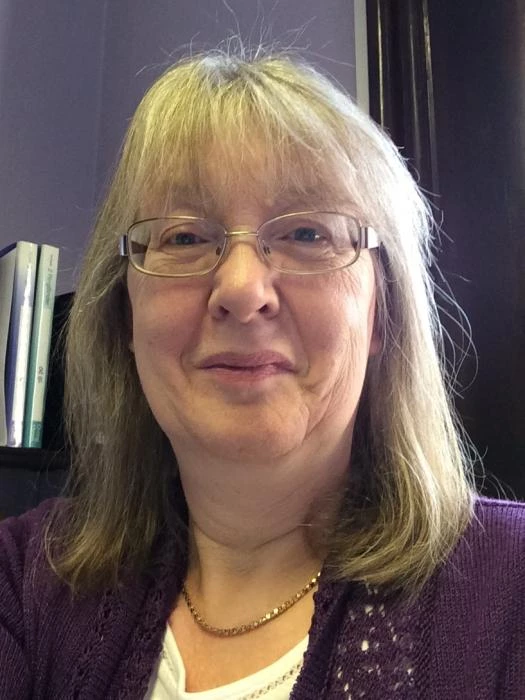 I am the Administrator at Elm Ridge Church and the Circuit Administrator, have lived all my life in Darlington and David and I have been married for 40 years. We have 3 grown up sons, Stephen works for Royal Mail and lives in town, Stuart trained as a teacher in York, met and married his wife there 9 years ago, have 2 daughters, Amy and Holly aged 5 and 1, and Andrew, our youngest is still living at home. Our family is very much involved with the Caravanners and Campers Christian Fellowship which joins together our enjoyment of caravanning and sharing fellowship with fellow Christians whilst on holiday.
Before coming to Elm Ridge in 2014, I was part of the publishing team at Evangelical Press based at Faverdale and before that I spent nearly 10 years as a school secretary at Heathfield Nursery/Primary School. Hobby wise, I love anything crafty, whether it be knitting, cross-stitch. baking or my favourite – card making, and David would have it that every room in the house is full of paper and card – which of course it is, but it is all useful paper and card – anyone who shares the same interest will know exactly what I mean!
I was brought up in a Christian home along with my 2 younger sisters. Because we were taken to church really from being born, I don't remember the time when I became a Christian – one day when I was about 12, I suddenly realised that I was and was baptised by immersion shortly afterwards. Over the years, through good times and bad, it has been obvious to me that the Lord has been with me, maybe I didn't recognise it at the time, but looking back He has been there supporting and encouraging – maybe through friends and circumstances – but there with me just the same. I have long been aware of the fact that just because we are Christians we don't get special treatment – we are all still sinners, fall ill or come across stumbling blocks in our way – but we have someone alongside us at every step, guiding and upholding us and sharing in our trials. What a privilege we have !
Although I am not a member of Elm Ridge or even part of the Methodist Church, it has been lovely to be welcomed into the Elm Ridge and the Circuit family and I am thoroughly enjoying getting to know each one of you. If I haven't met you yet, please call in and say hello!